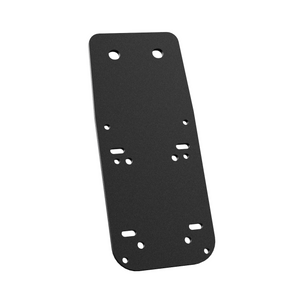 Are you looking for a new mounting plate for your existing 15 series or 40 series extrusion based mounting rig? Then this is likely a good option for you! The design of this plate can accept the Warthog Stick, FSSB, VKB Gunfighter, Virpil T50CM/CM2/CM3 Stick base, Virpil WarBRD base, or WINWING Orion/Orion 2 Stick, in either the desk mounted, or chair mounted orientation. This new version can now also mount the Virpil MT50CM2 and CM3 Throttles, or Virpil Button Boxes.
Note, this plate is NOT compatible with Foxx Mount Desk Mounts. For Foxx Mount compatible plates, use this version instead.
If you're not sure what extrusion series you have on your mount, measure the thickness of a beam in it's shortest direction. If its 1-inch thick, then its 10 series, like what is used for Foxx Mount products. If its 1.5-inches thick, then its likely 15 series. If its 40mm thick, then its likely 40 series. If you're not sure, reach out to me and I can likely help you determine. You can also read my Extrusion Info Page for more information.
Plates have a black powdercoat finish.
These plates are made on demand, and thus may have a slightly longer lead time than other products.
What's in the Box?
Common Stick Mounting Plate (Qty 1)

M4 x 12mm Pan Head Scew (Qty 4)

M5 x 14mm Pan Head Screw (Qty 4)

5/16-18 x 5/8" Button Head Cap Screw (Qty 2)

5/16-18 Slide Nut for 15 and 40 series extrusion (Qty 2)