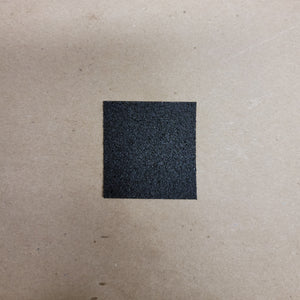 Note, this is a replacement part, all Desk Mounts come with a grip pad pre-installed.
This is the pad that goes on the underside of the top plate to make contact with the top of your desk. They are approximately 2" x 2" in size for the standard mount, or 2" x 3.5" for the Reach Mod version
They are adhesive backed, and come with a paper backing that needs to be removed before sticking them onto the mount. When applying, align one end with the edge of the top plate and then lay it flat and smoosh it firmly against the top plate with your thumbs. If you make a mistake, the adhesive can tolerate two or three attempts generally.

If you need to trim any overhang, a box cutter on a cutting board works great.